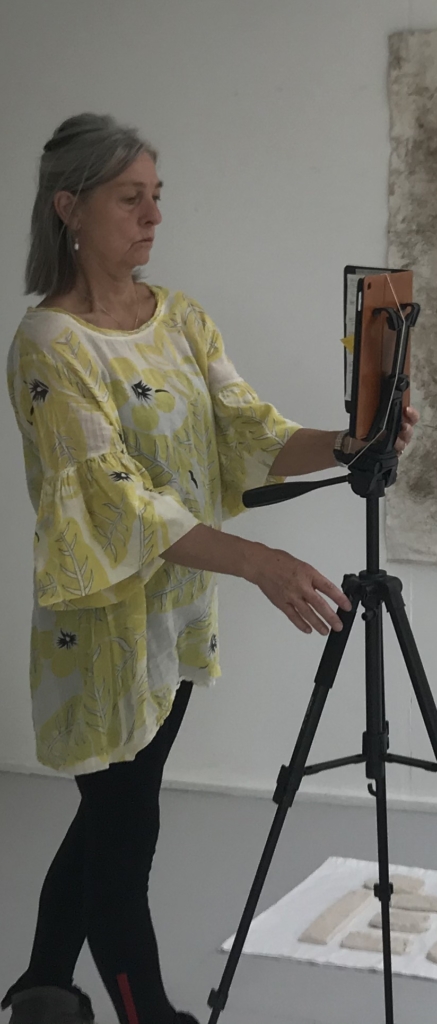 Visual Artist, graduated from Aarhus Academy of Fine Arts
I work with painting, collage, and graphic prints. In terms of genre is my artistic expression somewhere between abstraction and figuration.
There is great diversity in the selection of materials, techniques, and formats, I choose for my artworks. I explore painting's boundaries and challenge the picture surface in terms of experimenting with different materials – from canvas, cardboard, paper, textiles, plastics, fishing nets, coffee bags and wood for the etching of aluminum.
My primary technique is painting layer by layer, using the spatula to scrape and scratch into the wet surface of the artwork.
May 2020, I graduated from the Academy of Fine Arts in Aarhus.
In July 2020, I co-founded the Artist' association and workshop community Kubus Alba. We are 6 artists who have a non-profit workshop community and exhibition room at L.A. Ringsvej 54, 8270 Højbjerg near Aarhus, Denmark.
Member of:
Kubus Alba – Artist Group
UKK – Unge Kunstnere og Kunstformidlere
Netværket Kulturstrømmen, Kulturregion Storstrøm
–
–
Censored exhibitions
2020 (May-June) KunstPunkt in Augustenborg, Denmark
2020 (May) "Viruses dont kill art", The Collector´s Gallery, Calgary in Canada
2020 (March) Spring exhibition: Galleri 46, Sydjysk Kunstforening in Holsted, Denmark
2020 (February-June) "Det gode naboskab", Kunstnerhuset in Skærbæk, Denmark
2019/2020 (December-January) KunstPunkt in Augustenborg, Denmark
2019 (August) Kunstforeningen Køge Bugt, Denmark
2019 (August) Filosoffen – a modern cultural center showing art in Odense, Denmark
2019 (May-June) Mississippi in Thyholm; Denmark
Other exhibitions
2021 (September) Kubus Alba exhibition at Ovartaci Fields Museum, Aarhus, Denmark
2021 (August-September) Opening exhibition at Kubus Alba, Højbjerg, Aarhus, Denmark
2021 (May-July) Skagen Odde Naturcenter, Denmark
2021 (March-May) Mississippi in Thyholm, Denmark (Group invitation)
2020 (October-November) KUNST&CO in Flensburg, Germany. Graduation Exhibition from Aarhus Academy of Fine
arts.
2020 (September) German-Danish exhibition in Süderfahrenstedt, Germany
2020 (August-September) Huset i Asnæs, Denmark. Graduation Exhibition from Aarhus Academy of Fine arts.
2020 (June) My Viral Graduation Exhibition: https://aaka.dk/afgang-2020-aarhus-kunstakademi-signe-lanter/
2019 (September) LensCulture competition: Black & White Photography Awards 2019
2019 (May) Academy exhibition: Aarhus Academy of Fine Arts, Denmark
2019 (March) Solo exhibition: Aarhus Academy of Fine Arts, Denmark 
2019 (February-April) Solo exhibition: Medical center in Egå, Denmark
2018 (September) GENDERhouse Grand Finale Festival in Aarhus, Denmark
2017 (May) Academy exhibition: Aarhus Academy of Fine Arts, Denmark